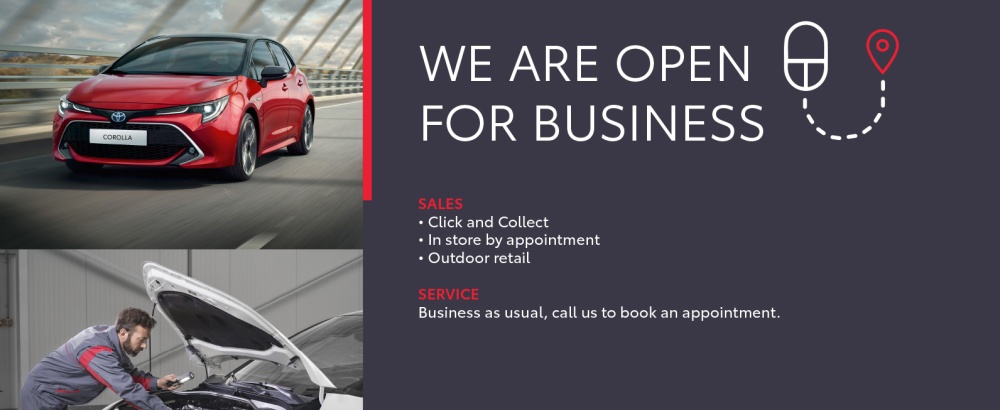 We wish to inform our customers that Tony Burke Motors is fully open for sales, service and repair requirements.
We wish to inform our customers that Tony Burke Motors is fully open. Customer safety is paramount and we are following all HSE and Government guidelines to ensure your safety and that of all our team. Our Service Department is open & operating as normal. Book your car service online at www.TonyBurkeMotors.ie or email us direct on service@tonyburkemotors.ie or call us on 091 480123.
Our sales department is now fully open. Tony Burke Motors is also offering a Virtual Showroom Experience to our customers, giving you the freedom to explore and shop our New and Used Hybrid Range from the comfort of your home using our new virtual tools on www.TonyBurkeMotors.ie website. The features of the Virtual Showroom include immersive educational videos across the full Toyota range, a live chat facility where you can speak in real time to our friendly sales team, trade-in valuations based on photos and videos and an online financing quotes and approval tool. All you need to do is visit www.TonyBurkeMotors.ie and submit your enquiry.
Our sales team are here to assist you online with your next car purchase. Get in touch today via email sales@tonyburkemotors.ie or visit www.TonyBurkeMotors.ie or call us on 091 480123.
Please continue to mind yourself and stay safe from all the team at Tony Burke Motors.
Safety Measures we have implemented:
Sanitisation stations at all entrances
2 metre social distancing markers
Protective screens for all staff / customer interactions
Hand sanitisers on all desks
PPE for staff with masks and gloves available for customers as required
Full sanitisation for all touch points in cars
Disposable covers used on seats, steering wheel and gear stick
Contactless payment
Aftersales Visits.
Please come into our premises alone
Ensure to maintain 2 metre distancing
Please sanitise hands as soon as you enter
Stay behind the line at the service counter
Please follow all staff requests
Thank you and stay safe
Virtual Sales
For 212, customers who are in the market for a new or used car can contact our sales team directly on 091 480123 or avail of Toyota's new virtual showroom tools which include a range of virtual sales and browsing resources, video interaction with Toyota product experts and unaccompanied test drives. From the safety of their own homes, customers can log on to TonyBurkeMotors.ie
Watch immersive and educational product videos covering the full Toyota range
Engage in personalised video calls and live chat with Tony Burke Motors sales executives
Complete trade in valuations and financing online
Configure their new car to their own personal preferences using Toyota's online tool
Receive personalised proposals and quotes via email, along with finance approval
In terms of the all-important test drives, Tony Burke Motors will provide new levels of flexibility and will offer unaccompanied test drives, which may be undertaken at the customer's home.
For all new or used car sales inquiries, please contact Tony Burke Motors on
091 480123 or email: sales@tonyburkemotors.ie or visit our website www.TonyBurkeMotors.ie
For all Car Service, Repair and Parts Enquiries please contact us on 091 480123 or email: service@tonyburkemotors.ie
An overview video of all of Toyota's new safety measures, Please watch below: