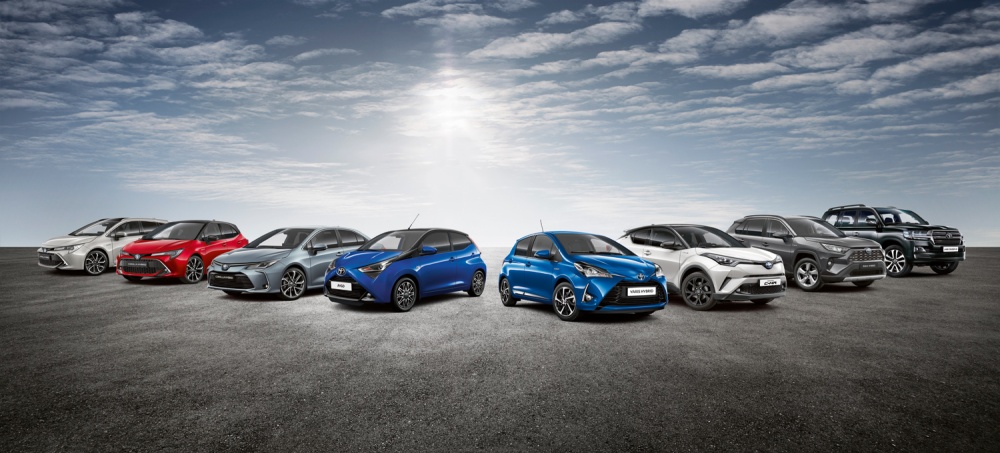 • Latest Toyota offers include trade in boosters up to €3,000 and 3-years servicing as standard • Toyota customers can also avail of 2% VAT reduction from 1st September • PCP offers from 2.9% with Toyota Financial Services
Toyota Ireland has announced the return of its Trade-In Booster and PCP finance offers which will be available to customers for a limited time period. From 10th August to 30th September, Toyota customers can avail a Trade-in Booster of up to €3,000, PCP offers from 2.9% with Toyota Financial Services and 3 years servicing as standard for all customers, giving drivers the perfect opportunity to begin their electric journey in a Toyota self-charging hybrid electric.
Commercial customers can benefit from a scrappage bonus of up to €3,500 or a Trade-In Booster of €2,500. In addition to these offers, Toyota has also announced that they will be passing on the government 2% VAT reduction to customers from 1st September.
As part of Toyota Ireland's brand promise 'Built for a Better World', the company continues to look to the ways in which they support their customers across the nation and provide helpful assets and tools to continue to improve the lives of Irish families. The return of Toyota Ireland's latest offers supports this promise, as the company is committed to providing helpful offers and incentives to make the switch to hybrid even easier for customers.
Hybrid leading the way
As sustainability continues to remain as one of the top concerns for many Irish drivers and consumers becoming increasingly environmentally conscious, the demand for hybrid vehicles is at an all-time high. As Toyota hybrids operate in electric mode over 50%** of the time on average, Toyota hybrid customers make an immediate impact on lowering NOX and CO2 emissions, contributing to a better environment and creating a better future for all.
Thanks to this the growing environmental consciousness of Irish drivers, the Toyota Corolla Hybrid continues to be Ireland's best-selling car in 2020 and Toyota continues to lead the country towards low emissions motoring and into electrified driving, so that customers can continue to make a positive impact in the lives of Irish families across the country.
Safety measures and Virtual Showroom
In line with government guidelines and with customer and staff safety being absolutely paramount, Toyota Ireland launched its Virtual Showroom experience in May which gives customers the freedom to shop at home. The features of the Virtual Showroom include live video chat with Toyota sales executives, as well as trade in valuations an online financing and approval tool. Further information on the new safe measures and protocol can be found here.
Steve Tormey CEO, Toyota Ireland said, "We understand the growing interest and commitment to sustainability and eco-consciousness among our Irish consumers. We want to offer our existing and potential customers an opportunity to access practical and affordable options, to create a safer and healthier environment for future generations by simply making the switch to a self-charging hybrid electric vehicle.
Our latest offers showcase the multiple areas in which our consumers can benefit from making the switch to hybrid, and we would encourage any potential customers to speak to a local Toyota dealer to find out more. We've introduced tools to make this even easier for potential customers, whereby they can simply go online to toyota.ie to our Virtual Showroom and access all relevant information, as well as speak to our online sales team, all from the comfort of their own home."
For more information on the latest finance contribution offers please visit www.TonyBurkeMotors.ie or call us on 091 480123 email: sales@tonyburkemotors.ie